We have made installing Sola Felt as easy as possible. You can install most of the designs on our site in under an hour, and none should take you more than a couple of hours.
Before you begin, measure the space on your wall and layout your tiles on a clean floor or table to make sure you have the right design in mind. Then wipe away any dust or debris on the wall, don't use soap as it may leave a residue that will interfere with the adhesive.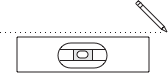 Step 1
Level
We recommend leveling the line of your first tile. Usually starting at the center and working outward. Most smartphones have a level built and will suffice. Marking the top edge with a light pencil will help guide you along the way.

Step 2
Peel
Peel off the 3form|home sticky tabs. They contain pressure-sensitive adhesive that is safe for most wall types. We have included some extra adhesive if you want to test it out first.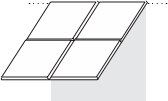 Step 3
Align
Align the top edge of the tile to your leveled line. This makes it easier to lower the tile exactly where you want it without having to reapply it.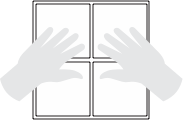 Step 4
Press
Press and apply firmly

Step 5
Enjoy
Pin and enjoy. You may want to vacuum your felt tiles about once a year. If something wet gets on the tile dab it clean with a dry or damp cloth.
Cutting
Sola felt tiles cut fairly easily with a sharp craft knife to make custom shapes. The chamfered channels make especially good guidelines, and the felt tiles cut better using the existing pattern than making your own shapes. If you decide to cut your sola felt tiles, we recommend using a sharp straight blade and a metal straight edge to help guide. Place the tile on a blade-safe surface and cut with smooth firm pressure.